LATEST NEWS: Tickets are now on sale for our First Annual Psychosynthesis Coaching Symposium on 14th November 2018, location NCVO Kings Cross London: > Book your place here!
Leadership coaching has a crucial role to play in developing and supporting leaders to meet the challenges they face in today's fast-changing, uncertain and complex organisational world.
At Psychosynthesis Coaching, we aim to provide a leadership coach training that not only establishes the basic foundations for successful coaching, but also enables coaches to work at the deeper psychological level that makes a fundamental difference to people's lives.
Our flagship programme is the Post-Graduate Certificate in Psychosynthesis Leadership Coaching, which is validated by Middlesex University and leads to Professional Membership of APECS (the Association of Professional Executive Coaches and Supervisors). This unique course is the result of a partnership between The Institute of Psychosynthesis, which brings 40 years experience of developing counsellors, therapists and coaches, and Psychosynthesis Coaching Limited, which is dedicated to meeting the emergent needs of the coaching profession and of organisational leaders.  
Some feedback from students on our first three programmes:
"This course is so well structured that it ensures everyone gets what they came on it for and much more.  The depth and breadth of content is breathtaking…"
"It has given me a solid framework in which to couch my coaching practice and I also feel liberated to follow my intuition as I continue to work on myself and with my clients."
"A fantastic experience that I will never forget… the authenticity of Paul and Aubyn really elevated the course to a level I have never before experienced with a face-to-face course."
"I felt the course involved a wonderful synthesis of personal, systemic and spiritual work which was constantly grounded in the day-to-day challenges of coaching and organisational life. Inspiring but also deeply practical."
"This course was a life changing experience for me… the learning has supported me in making step changes in my role as a CEO and enabled me to confidently practice as a leadership coach."
Certificate programmes run twice a year (starting in September and January) and each programme is currently limited to twelve places. Our first programme started in September 2015 and we recently completed our fifth programme. Our next one starts in February 2019.
Our usual workshop venue is The Future Leaders Trust (recently renamed Ambition School Leadership), located at Unit 2 Bridge Wharf, 156 Caledonian Road, London N1 9UU (about 10 minutes walk from Kings Cross – see contact menu for more details).
Psychosynthesis Coaching has been set up by two experienced coaches and psychosynthesis practitioners, Aubyn Howard and Paul Elliott.
To download our two page summary leaflet about the Post-Graduate Certificate in Psychosynthesis Leadership Coaching, please click here:
Or for the longer four page brochure click here:
The Post-Graduate Certificate in Psychosynthesis Leadership Coaching is accredited by:
If you have any questions about the PGCPLC coaching course please contact:
Aubyn Howard at aubyn@psychosynthesiscoaching.co.uk and on 07801861416
or Paul Elliott at paul@psychosynthesiscoaching.co.uk and on 07967302971
To complete our on-line Application Form, click here
More feedback from students on our first three programmes:
"The course was full of integrity, there was such a depth of knowledge, and it was delivered with compassion and a connectedness rarely experienced around such a subject matter"
"I've received many gifts from this course, and it has been a real catalyst for deep change in me."
"The peer group was magical and together we held each other and encouraged each other beyond belief.  Paul and Aubyn were phenomenal guides, teachers, friends. They had the perfect balance of feeding our souls and our minds."
"I feel so glad that I was able to do the course and have received a huge amount from it."
"Loved the course! You created a wonderful alchemical flask for our transformation."
"The opportunity to work at two distinct levels: the intellectual level i.e. the papers and the models and the 'soul' level i.e. working with thy dynamic process of 'self' as an instrument. Very powerful learning combination."
"This has been by far the most powerful learning and growth experience of my career since I first became a coach…"
See our latest newsletters: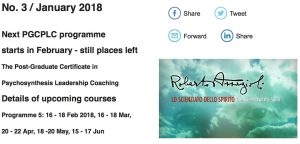 N0 3: January 2018
 No 2: September 2017
Questions and answers
Click on any of the following links to find out more:
Why should I take this course?
What do we mean by leadership coaching?
How is the PGCPLC different from other coach training courses?
What is the approach to learning on the course?
What is the broader context for the course?
What are the outcomes – what will I have at the end?
Who leads and delivers this course?
What are the Institute of Psychosynthesis and Psychosynthesis Coaching Limited?